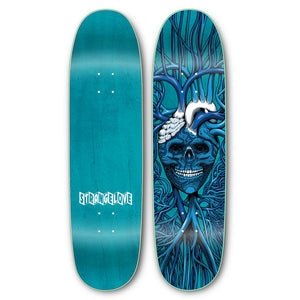 StrangeLove Skateboards
Code Blue / 8.5 Deck
Regular price
$25.00
$0.00
Artwork by Sean Cliver
Manufactured at PS Stix (Heat Transfer)
Dimensions: 8.5 x 32.25

Specs: Nose: 7.0 / Tail: 6.5 / WB: 14.25
Note: All sales are final. Can't say that any simpler. Unless the product is defective in the manufacturing sense, we will not accept any returns—in other words, you bot it, you bought it.
Product Description: I know it's stated in every product listing—in fact, there it is right below this very excuse for a product description!—but I feel the need to remind everyone that these decks all come in assorted stains and they're sold willy-nilly off the website. By this I mean that if you order any of the "Code Blue" decks, there's no guarantee what color you will receive... it's just whatever the warehouse dude grabbed off the shelf and stuffed in your box. Does my saying all this make you kind of blue? If so, now would be the time to cue Miles Davis, because if you didn't think I was going to find a segue into something aurally bluish then chances are you're also going to be confused when you open your box and don't see this aqua stained board inside. —Cliver
Warning: Since the dawn of mankind, top and bottom stain veneers come in a variety of colors and the ones shown here are for display purposes only. In other words, we cannot guarantee a specific color so please be pleasantly surprised with the one you receive and not get all bent and butt-hurt about it.
---
More from this collection