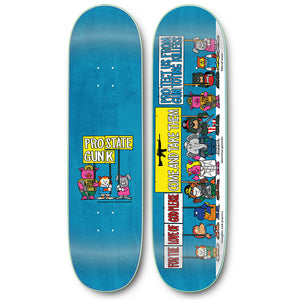 StrangeLove Skateboards
Protest / 8.5 Deck
Regular price
$70.00
$0.00
Artwork by Sean Cliver
Manufactured at PS Stix (Heat Transfer)
Dimensions: 8.5 x 32.125
Specs: Nose: 7.125 / Tail: 6.75 / WB: 14.25
Note: All sales are final. Can't say that any simpler. Unless the product is defective in the manufacturing sense, we will not accept any returns—in other words, you bot it, you bought it.
Product Description: Our lovable little silly animals are back and they're protesting… prostate gunk? Hmm. That sure does set the mind wondering, doesn't it? Most men don't have to worry about their prostate until much later in life, but it's definitely something worth getting checked out by a licensed professional. Better safe than sorry, I always say, even if it is a rather invasive and uncomfortable cavity search while they go rooting around for this supposed gunk in the undercarriage. —Cliver
Warning: Since the dawn of mankind, top stain veneers come in a variety of colors and the one shown here is for display purposes only. In other words, we cannot guarantee a specific color so please be pleasantly surprised with the one you receive and not get all bent and butt-hurt about it.
---
More from this collection