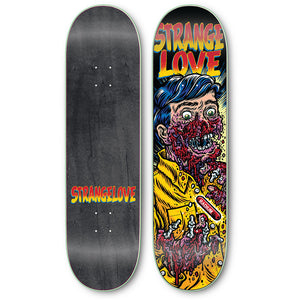 StrangeLove Skateboards
Radium / 8.5 Deck
Regular price
$70.00
$0.00
Artwork by Todd Bratrud
Manufactured at BBS (Heat Transfer)
Dimensions: 8.5 x 32.5
Specs: Nose: 7.125 / Tail: 6.875 / WB: 14.25
Note: All sales are final. Can't say that any simpler. Unless the product is defective in the wood manufacturing sense, we will not accept any returns—in other words, you bot it, you bought it.

Shipping Note:

This deck is tracking a little late and is not yet in our warehouse. This will ship after 10.20,

so p

lease

understand

 that this deck and any other product on your order will not ship until then. 
Product Description: You may or may not believe it, but 80 odd years ago things got pretty wild in the comic book industry. So much so that the government had to step in to stem the moral panic and outrage by instituting what came to be formally known as the Comics Code Authority. Man, what a bummer that stamp of "approval" came to be, as it basically put EC Comics, the leader of the boundary-pushing pack, into a premature grave. Anyway, inspiration is as inspiration does, so here's one inspired from the "Golden Age" of horror comics before the nationwide bubble-wrapping of children began. And if you're looking for a back story to trip out on, please go down this radium rabbit hole for a look into the sordid past and a bit of insight as to where the original "radium jaw" stemmed from. It's quite the story indeed. —Cliver

Warning:

 Since the dawn of mankind, top stain veneers come in a variety of colors and the one shown here is for display purposes only. In other words, we cannot guarantee a specific color so please be pleasantly surprised with the one you receive and not get all bent and butt-hurt about it.
---
More from this collection