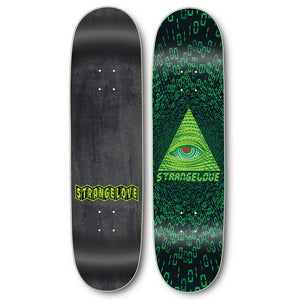 StrangeLove Skateboards
All Seeing Eye / 8.25 Deck
Regular price
$65.00
$0.00
Artwork by Todd Bratrud
Manufactured at PS Stix (Heat Transfer)
Dimensions: 8.25 x 31.75
Specs: Nose: 7.0 / Tail: 6.5 / WB: 14.0
Note: All sales are final. Can't say that any simpler. Unless the product is defective in the manufacturing sense, we will not accept any returns—in other words, you bot it, you bought it.
Product Description: Forgive the asinine assonance, but Weishaupt wept! Why? Mainly because I'm a mathematical moron. You see, I'm only ignorantly aware of the 0 + 1 = some brilliant binary bullshit, and fuck if I can't mentally make heads or tails of what any of that golden means or even computes to... 2? 2 + 3 = 23? Nope, my numerological numbskull ain't touching none of that with a 322-foot pole, but feel free to message Bobby Puleo and ask, because he certainly has an eye for eyes with corresponding numbers. —Cliver
Warning: Since the dawn of mankind, top stain veneers come in a variety of colors and the one shown here is for display purposes only. In other words, we cannot guarantee a specific color so please be pleasantly surprised with the one you receive and not get all bent and butt-hurt about it.
---
More from this collection