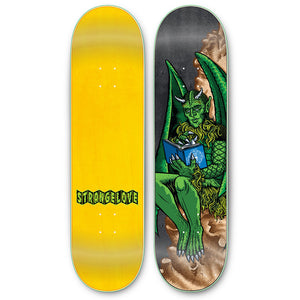 StrangeLove Skateboards
Gargoyle / 8.375 Deck
Regular price
$30.00
$0.00
Artwork by Todd Bratrud
Manufactured at PS Stix (Heat Transfer)
Dimensions: 8.375 x 32.25
Specs: Nose: 7.0 / Tail: 6.625 / WB: 14.25
Note: All sales are final. Can't say that any simpler. Unless the product is defective in the manufacturing sense, we will not accept any returns—in other words, you bot it, you bought it.
Product Description: Wouldn't you know it—and just my luck!—I once tapped out a whole blahg post dedicated to the subject matter upon which this graphic is based. You can find it here, if you so desire, but the long and the short of it is that Gargoyles gave me goosebumps long before Goosebumps was even an R.L. Stine publishing deal. —Cliver
Warning: Since the dawn of mankind, top and bottom stain veneers come in a variety of colors and the ones shown here are for display purposes only. In other words, we cannot guarantee a specific color so please be pleasantly surprised with the one you receive and not get all bent and butt-hurt about it.
---
More from this collection