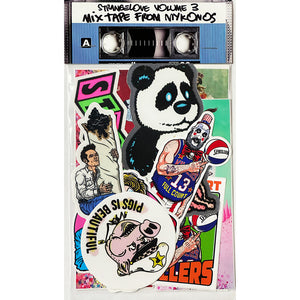 StrangeLove Skateboards
StrangeLove Mix Tape Vol. 3 / Stickers
Regular price
$25.00
$0.00
New Header Card
Polyethylene Bag
Two Staples
12 Adhesive Forms
Note: All sales are final. Can't say that any simpler. Unless the product is defective in the manufacturing sense, we will not accept any returns—in other words, you bot it, you bought it.
Product Description: Looks like I inspired Nick to go dig through his own sticker hoardings over the past several years of our doing business together, because he's gone ahead and made a pack all his own. He even requested a fancy name for it, too: "Mix Tape from Mykonos." Yeah, it's an inside Greek thing—no matter how intergalactic planetary it may sound—but it can still be enjoyed regardless of your ethnicity. Although, if I'm being frank, these assortments may contain a few things now considered offensive to those who dwell in the UK, depending on which pack is ultimately pulled for shipping, because if you haven't learned by now these "mix tapes" are actually "grab bags" where no two are exactly alike in terms of adhesive contents. I mean, some may be similar, like real similar, so just be a good buyer and read the beware below to avoid any unnecessary emotional duress or trauma in your life. —Cliver 
Warning: If you've already bought all of our previous sticker packs, look, you don't really need this one. I mean, sure, there is the very random chance that something never before offered in our formal packs may in fact be contained within one of these, but there are absolutely no guarantees. At all. Like none whatsoever. That said, let it be known that I've done my damndest to dissuade you from buying this product. So unless you really, really want some doubles or extras, please save your money for something new. End of sales pitch.
---
More from this collection