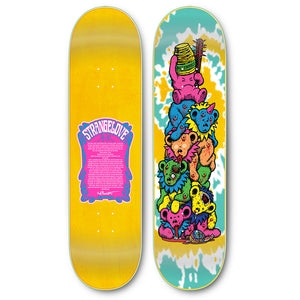 StrangeLove Skateboards
Bears / Turquoise Tie Dye / 8.375 Deck
Regular price
$90.00
$0.00
Artwork by Sean Cliver
Manufactured at PS Stix
Hand-Screened at Screaming Squeegees
Caveat: Be aware that blemishes and imperfections are an expected and accepted part of the screen-printing process. Each board is screened by hand, one at a time, layer upon layer, making each print unique unto its own—just like snowflakes! That said, sorry, but we will not consent to any returns unless the graphic is determined to be unacceptable at our discretion. Please take this into consideration prior to ordering any screen-printed boards.
Dimensions: 8.375 x 32.25
Specs: Nose: 7.0 / Tail: 6.625 / WB: 14.25
Note: All sales are final. Can't say that any simpler. Unless the product is defective in the wood manufacturing sense, we will not accept any returns—in other words, you bot it, you bought it.
Product Description: You know what I hate? Know-it-alls. You know, geeks. I know that you know what geeks are, because you're all geeks. Know thyself. Geeks collect things, hoarding objects, nerds love learning and sharing ideas. As a nerd, I'm not outright saying that I hate you, but I am saying that I hate what you represent.
Filthy collector trash.
Reading the top of this board.
Before you hang it on your (mothers basement) wall.
For shame.
Here's something else you should know: that this graphic was originally based on a short-lived-but-semi-popular-and-now-extinct Instagram account, vectored through a Winnie the Pooh story, SMA Rocco Division, 3-D skateboards, and a heavy dose of nerdy nostalgia from 2018. It was a cool time, for me. Strangelove gave me a bro model. For Instagram! But now it's like I'm Ray "Bones" Rodriguez seeing his former pro model emblem turn into a best-selling graphic for which he received no financial compensation. If your peel back the layers of nerdy skate history, all of which should add much-fetishized pedigree to your geeky manic habits, there is a story as old as time itself: a childhood love being commodified through skateboarding and ending up on the bottom of a skateboard. And maybe that means something to you geeks. Or maybe you're just collecting it because it's a Sean Cliver deck, which is a fine reason to buy this board. I don't really mind, because the only thing I hate more than geeks is the Grateful Dead. —Ted Barrow
Warning: Since the dawn of mankind, top and bottom stain veneers come in a variety of colors and the ones shown here are for display purposes only. In other words, we cannot guarantee a specific color so please be pleasantly surprised with the one you receive and not get all bent and butt-hurt about it.
---
More from this collection