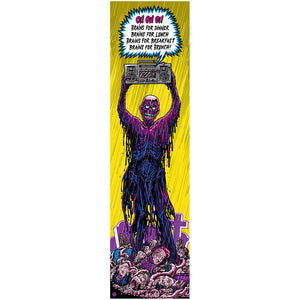 StrangeLove
Sean Cliver / Brains / Print
Regular price
$75.00
$0.00
Artwork by Sean Cliver
Epson Inkjet Print on White Stock
Dimensions: 10 x 32
Signed & Numbered Limited Edition of 30
Product Description: Happy Return of the Living Dead Day! A day which in my mind is way better than Day of the Dead. Mostly because the latter has become a kitschy decorative deal for Echo Park hipsters hell bent on gentrification and appropriation. Mind you, I just made all that up, but who cares! That's what the internet was made for. Anyway, since we're slightly on the topic of home decor, this print would look absolutely stunning in the basement or any other "man place" because your wife won't let you hang it anywhere else. Although shame on me for being so presumptuous that you are a man, when in fact you could be a woman, nonbinary, or whatever other gender classification have you, and for that I can only offer my apologies, because brains really are for everyone this horrific day! —Cliver
Note: All sales are final. Can't say that any simpler. Unless the product is defective in the manufacturing sense, we will not accept any returns (in other words, "you bot it, you bought it").
---
More from this collection