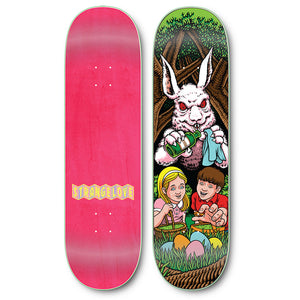 StrangeLove Skateboards
Ether Bunny / 8.75 Deck
Regular price
$90.00
$0.00
Artwork by Sean Cliver
Manufactured at PS Stix
Screen-printed at Screaming Squeegees
Caveat: Be aware that blemishes and imperfections are an expected and accepted part of the screen-printing process. Each board is screened by hand, one at a time, layer upon layer, making each print unique unto its own—just like snowflakes! That said, sorry, but we will not consent to any returns unless the graphic is determined to be unacceptable at our discretion. Please take this into consideration prior to ordering any screen-printed boards.
Dimensions: 8.75 x 32.875
Specs: Nose: 7.25 / Tail: 6.75 / WB: 14.75
Note: All sales are final. Can't say that any simpler. Unless the product is defective in the manufacturing sense, we will not accept any returns (in other words, "you bot it, you bought it").
Product Description: Some itches you just have to scratch. Even if you totally miss the damn holiday around which they are centered. Enter the Ether Bunny. I know this joke has been around the block, but just know that we first entertained the idea of an "Ether Bunny" skit somewhere around the more innocent years of jackass, circa 2000–2002. We imagined the idea to be a no brainer: Chris Pontius, who was no stranger to bunny-like personas, would don a big bunny costume and sneak up behind someone like Danger Ehren with an ether-soaked rag. Hilarity would surely ensue as Danger went limp as the rag he'd just inhaled, at which point Chris would drop him to the ground like a sack of potatoes. End bit. Well, maybe not… an unconscious Ehren would be too tempting to resist. Especially then. Oh god how good that would have been… Unfortunately it never made it past the MTV gauntlet, where the safety advisor informed us this lark could have very lethal implications. Really? Fuck, who knew?!? I mean, it seemed like everyone was always getting ethered or chloroformed in the movies and they were just fine afterward! And I know we weren't the only ones fascinated by this method of knocking people out, because Glenn Howerton, Charlie Day, and Rob McElhenny spent a good chunk of time talking about it on an episode of the It's Always Sunny in Philadelphia podcast as well. —Cliver

Warning: Since the dawn of mankind, top stain veneers have come in a variety of colors and the one shown here is for display purposes only. In other words, we cannot guarantee a specific color so please be pleasantly surprised with the one you receive and not get all bent and butt-hurt about it.
---
More from this collection