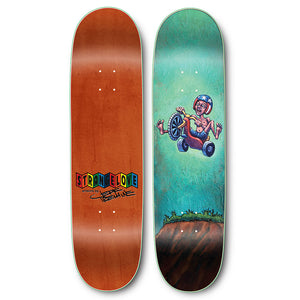 StrangeLove Skateboards
Jeff Tremaine / Daredevil / 8.25 Deck
Regular price
$65.00
$0.00
Artwork by Jeff Tremaine
Manufactured at PS Stix (Heat Transfer)
Dimensions: 8.25 x 31.75
Specs: Nose: 7.0 / Tail: 6.5 / WB: 14.0
Note: All sales are final. Can't say that any simpler. Unless the product is defective in the manufacturing sense, we will not accept any returns—in other words, you bot it, you bought it.
Product Description: If you knew Evel Knievel like we knew Evel Knievel back in the '70s, then it's no mystery where a good chunk of the stunty inspiration for Jackass lies. If you don't know Evel, well hell, have I got a treat for you, because Tremaine produced a whole damn documentary about him called Being Evel. —Cliver
Warning: Since the dawn of mankind, top stain veneers come in a variety of colors and the one shown here is for display purposes only. In other words, we cannot guarantee a specific color so please be pleasantly surprised with the one you receive and not get all bent and butt-hurt about it.
---
More from this collection