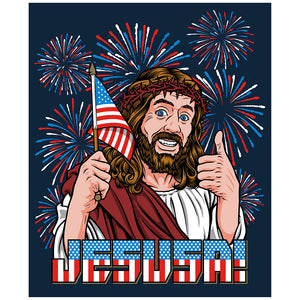 StrangeLove
Sean Cliver / JESUSA! / Print (Version 1)
Regular price
$50.00
$0.00
Artwork by Sean Cliver
Epson Inkjet Print on White Stock
Dimensions: 11.5 x 14
Signed & Numbered Limited Edition of 50
Product Description: If you can't beat 'em, join 'em. Just kidding. This 4th of July we're celebrating an important cornerstone of American democracy: Satire.

It, along with seemingly everything else that's been fought long and hard for over the history of our nation, is fast becoming an endangered liberty, or at the very least one that few can wrap their polarized heads around anymore, all context be damned.

Feel free to disagree and live and let live—that too was once considered to be an American right and way of civilized life—or buy it now and and hang it as camo in your entryway when They finally come for you to join or die in the Divine Republic of Gilead. I know, sounds overwhelmingly silly and alarmist, but who would've ever guessed we'd currently be slipping back down the Church & State slope in this day and age, right? That said, we will be donating a portion of the sales from this print to Planned Parenthood, because no one, not fucking ever, should impose their rule or claim over a woman's body and her right to freedom of choice. —Cliver
Note: All sales are final. Can't say that any simpler. Unless the product is defective in the manufacturing sense, we will not accept any returns (in other words, "you bot it, you bought it").
---
More from this collection