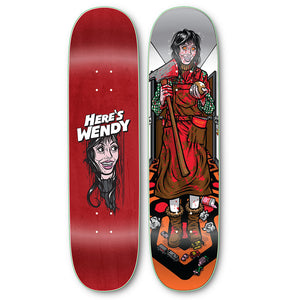 StrangeLove Skateboards
The Wendy Theory / 8.0 Deck
Regular price
$90.00
$0.00
Artwork by Todd Bratrud
Manufactured at PS Stix
Hand-Screened at Screaming Squeegees
Caveat: Be aware that blemishes and imperfections are an expected and accepted part of the screen-printing process. Each board is screened by hand, one at a time, layer upon layer, making each print unique unto its own—just like snowflakes! That said, sorry, but we will not consent to any returns unless the graphic is determined to be unacceptable at our discretion. Please take this into consideration prior to ordering any screen-printed boards.
Dimensions: 8.0 x 32.0
Specs: Nose: 7.125 / Tail: 6.625 / WB: 14.125
Note: All sales are final. Can't say that any simpler. Unless the product is defective in the wood manufacturing sense, we will not accept any returns—in other words, you bot it, you bought it.
Product Description: The code has been cracked! Turns out all the purposeful continuity errors and specific camera placements by Stanley Kubrick point directly to Wendy having psychotic breaks, meaning all the events in The Shining are actually just her hallucinations. The info has always been right there… it's so obvious once you know how to identify the clues perfectly laid out by Kubrick alongside his decoded "Moon Landing" confessions (wink-wink nudge-nudge). —Todd Bratrud
Warning: Since the dawn of mankind, top stain veneers come in a variety of colors and the one shown here is for display purposes only. In other words, we cannot guarantee a specific color so please be pleasantly surprised with the one you receive and not get all bent and butt-hurt about it.
---
More from this collection