• Sean Cliver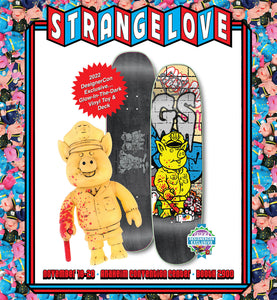 I probably should have posted this a couple weeks back,
but I don't always remember this site can also be used as a promotional news outlet. I mean, I do, sometimes, or rather mostly only when it comes down to significant product launches, but I'm also perpetually behind the eight ball in my StrangeLove tasks where everything seems to always have to come down right to the stressful fucking wire. That said, today's live wire of anxiety is the upcoming Designercon event in Anaheim, CA, this coming weekend.
---
• Sean Cliver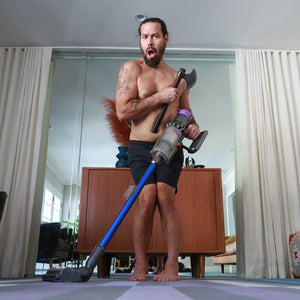 I recognize that celebrating the penis isn't in vogue these days,
but this is an article about a very special penis. It's about Chris Pontius' penis and its role as the "Pontiusaurus" in
Jackass Forever
. 
About half of all humans on earth have a penis, and I would fancy a guess that about half of all animals on the planet have penises, so it's no wonder so many people are tired of the penis—there are a lot of them out there. So I can certainly understand why someone would not be interested in reading this article. If you have an aversion to penises, please don't read this article.
---
• Sean Cliver
This seems like it should live here, yeah?
Yeah. Fuck yeah. Of course it does! Special thanks to everyone at Stratosphere who had a helping hand in making this video/collaboration possible. Whoever came up with the whole "it takes a village" schtick was right on the money in terms of StrangeLove… we're like the Amish barn-raising outliers of the industry (even if the industry has no idea we're even a part of it).
---
• Sean Cliver
Hey, do you still happen to have your official StrangeLove tin foil hat from our "conspiracy" release back in 2019?
 Good, because you're going to need it this coming weekend. Should you, however, have no idea what I'm referring to, that's probably because you never even knew this company existed prior to February 2020—not that that is a bad thing, of course, because the truth is we barely existed on anyone's radar before that fateful Valentine's Day fiasco. What a shit show that was! Gosh, for a day all about love we sure did bring the rain of hate. Good times.
---
• Sean Cliver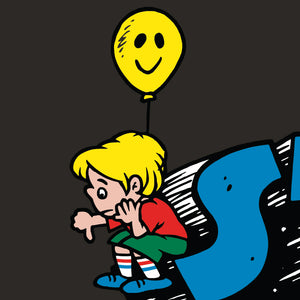 Not to be presumptuous,
but if at times while reading the various product non-descriptions and all the other various "header card" nonsense, you've thought to yourself, "Wow, this dude sounds like he's on the verge of a mental breakdown," I'd have to say, "Sure, why not," which ultimately brings us to the return of the "Balloon Boy" graphic.