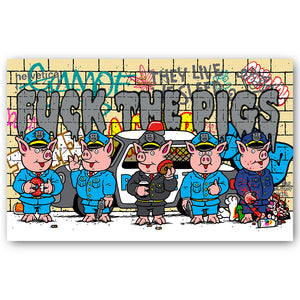 StrangeLove Skateboards
Sean Cliver / Pigs / Print
Regular price
$100.00
$0.00
Artwork by Sean Cliver
12-color Screen-Print on White Stock
Professionally Screened by InHouse Media
Dimensions: 24 x 15
Signed & Numbered Limited Edition of 100
WARNING: LIMIT ONE PER HOUSEHOLD: That's right! Multiple orders run the risk of cancellation… do so at your own peril.
Product Description: You did know this was gonna happen at some point or another, didn't you? Well, here it is now and it's a porker. Our biggest print yet! Nice bright colors, a naughty word, trivial references to people, things, and famous quotations and tags gone by. Looks like it's gonna be a Stouffer's Thanksgiving after all! —Cliver
Note: All sales are final. Can't say that any simpler. Unless the product is defective in the manufacturing sense or damaged in shipping, we will not accept any returns.
---
More from this collection